Homeowners typically use either hardwood or carpet on the stairs inside their homes. If you are building a new home or thinking of redoing your stairs, you may be wondering which is the better option. The hardwood flooring installation experts at Ward Hardwood believe hardwood is the right choice. Here's why:
Carpet is harder to clean
Even if you ask your guests to remove their shoes before going upstairs, people in your home are bound to drag in dirt and debris and carry it with them upstairs. Unfortunately, it is much easier to stain carpet than it is to stain hardwood, so you will begin to notice discoloration on your carpet stains in no time. Store-bought carpet cleaners may make the stains fade, but you may need to call a professional cleaner to make your stairs look as good as new. To clean wood, you typically just have to sweep the dirt and debris off of the surface. Here are 
10 carpet cleaning tips from the pros
.
Carpet shows wear and tear
Besides stains, carpet will also show wear and tear caused by frequent foot traffic. You may start to notice some spots of the carpet look more worn down than others. This is probably because this is the area that people frequently walk over as they go up and down the stairs. If you have hardwood stairs, you won't have to worry about this because this flooring material is fairly resistant to wear and tear.
Wood is more elegant
Having a wood staircase will make the rest of your home look more elegant and grand, whereas having a carpet staircase is less visually appealing. If the staircase is the first thing you see when you open the front door of your home, it's important to make a strong first impression by choosing wood over carpet.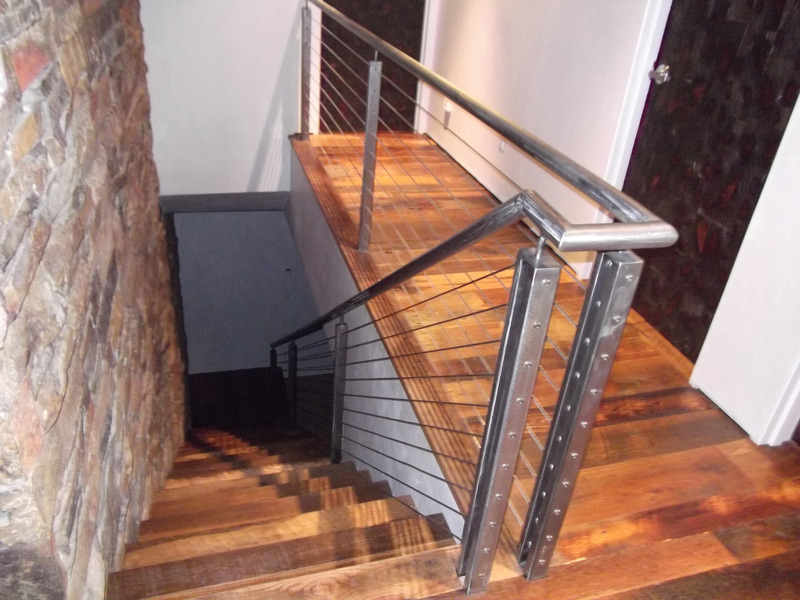 Wood is easier to see at night
The carpet used on stairs is typically all one color, which means it can be difficult to tell where the step is when you try to walk up or down the stairs in the dark. You won't have this problem with wood. Most wood staircases feature stained wood on the tread of each step, and then painted wood on the riser. For example, the tread could be built with a rich, dark wood and the riser could be painted white. This contrast makes it easier for you to see where one step ends and the next begins if you are attempting to use the staircase at night.
 
Are you still struggling to decide between carpet and wood for your staircase? There's one way you can incorporate both: build a wood staircase and then put a carpet runner down the center of it!
 
If you're ready to build beautiful hardwood stairs in your home, it's time to get in touch with the professionals. 
Contact
the team of design experts at Ward Hardwood who have a knack for helping clients choose the right hardwood for their homes, and preserve it for years after installation. Call 303-674-6966 to set up a consultation today.